YES, SHE IS INSIDE THE BOTTLE, AND THIS BOTTLE IS ALSO FULLY DECORATED ON THE INSIDE TOO!
YOU WILL NOT FIND THIS BOTTLE ANYWHERE ELSE! EACH PIECE IS HAND CRAFTED FOR IT'S MASTER, AND A ONE OF A KIND!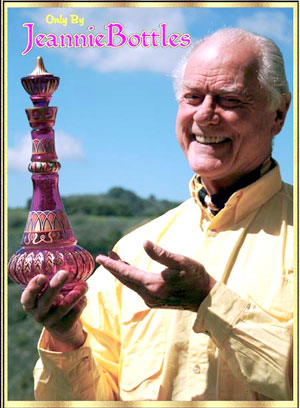 This bottle lights up from the inside, exposing Jeannie with her arms crossed & ready to greet her new Master!
Comes in all Genie designs!
$799 with $36 shipping National and $77.10 International
COMING SOON
SPECIAL ORDERING IS REQUIRED FOR YOUR BOTTLE, ALL ORDERS ARE NON-REVOCABLE. NO REFUNDS OR RETURNS ON BOTTLES. IT MAY TAKE APPROX.12-16 WEEKS PLUS SHIPPING TIME TO FINALLY COMPLETE YOUR BOTTLE DURING SPECIFIC TIMES PER YEAR.
WHEN MAKING YOUR ORDER. THESE BOTTLES ARE HANDCRAFTED AND HAND-PAINTED, THERE ARE BOUND TO BE SOME SLIGHT IMPERFECTIONS DUE TO ITS ONE-OF-A-KIND NATURE & YOU AGREE TO THESE TERMS WHEN PLACING YOUR ORDER.
Why does it take approximately 12-16 weeks plus shipping?
This is a very good question, and one that deserves a response. Let's examine the creation process of your Jeannie Bottle:
This Gallery Art pieces I create are entirely created by hand. Your Bottle is 100% hand crafted & Hand Painted. Della Casa Designs & JeannieBottles.com assures you that the highest quality brushes and materials are used for the painting of your bottle. Before the hand painting can take place, the details of the bottle itself are done "by hand" which is a time consuming process.


After your bottle is completed, the intricate ornamentation and designs take time to complete.


We do not and will NEVER use decals or templates or paint pens of any kind to create your bottle. It takes a steady hand and a good eye for detail to create this masterpiece. These bottles are created with the elegance and quality that you so truly deserve. JeannieBottles will always keep our prices reasonable and the main focus of this website has been built on integrity and to provide something you have always wanted.
The happiness you receive from JeannieBottles is what's important to us. Thank you & May ALL your wishes come true!
Mario A.C. Della Casa
"The JeannieBottle Man"