Jeannie Bottles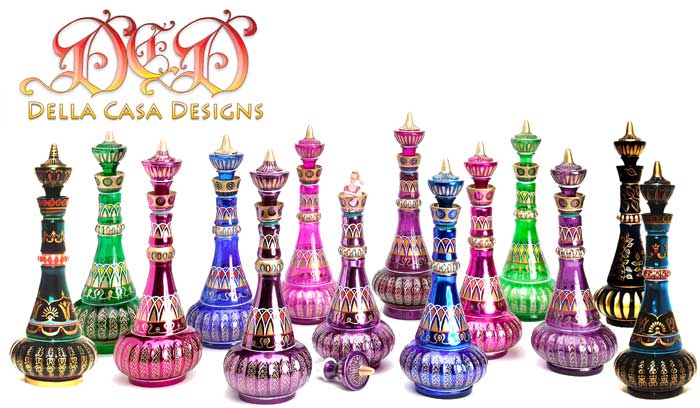 Here you will find the most exquisite Jeannie Bottles. These bottles are beautifully handcrafted & handpainted and created in Unbreakable Brass & A Varity of Stunning Glass. Mario A.C. Della Casa is the ONLY artist ever Licensed by Sony Entertainment to create The "Authorized I Dream of Jeannie Bottle", You will not find any bottle on the market that matches the beauty of a true Della Casa Design!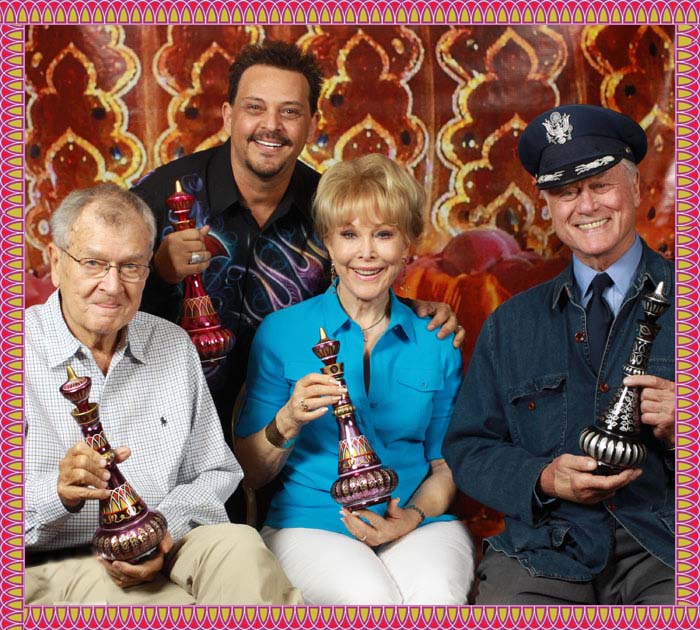 Larry Hagman as The Master (I Dream Of Jeannie & Dallas)
"The paint work is unbelievably beautiful and it is a real work of art and will enjoy a prominent place in my memorabilia room. I originally received a bottle from Mario Della Casa and it is so beautiful I keep it on my coffee table in my den so everybody can admire it. Believe me, it demands respect and admiration. It is absolutely beautiful."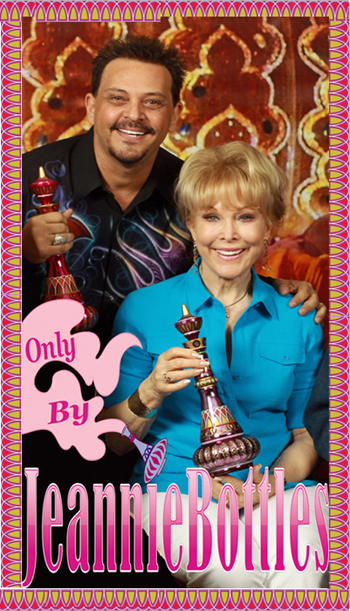 Barbara Eden
"I own several of Mario's Artworks, his talent is truly second to none. He is a true master artist and I am very proud to have his work displayed in my home."
DUE TO THE HIGH DEMAND OF JEANNIE BOTTLES BEING ORDERED, A 12 WEEK WAITING PERIOD HAS BEEN APPLIED TO EVERY ORDER, THANK YOU.
If you care to purchase your item(s) with a money order (or) cashiers check, please send it to: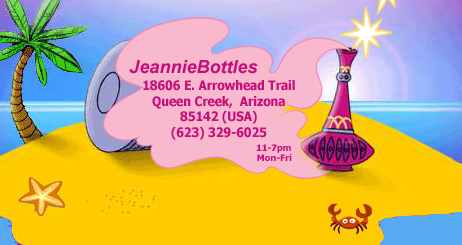 Please Notice: There will be a 15 business day hold for clearance of personal checks.
For information, please send an email to jeanniebottles@cox.net
click on image for a larger version

$389.99 each
Get them Now!

This is a special introductory price! These brass bottles regularly sell for $589.00 making this a savings of over $200.00!

Note: These bottles are made entirely of brass therefore the weight of the bottle is 5 pounds! These bottles come insured. Postage in the USA is $36.00. For overseas orders, please email Mario to confirm cost for S&H.

Cashiers checks and money orders will be accepted for this special order!

Please mail payment to:
Mario A.C. Della Casa
18606 E. Arrowhead Trail
Queen Creek, AZ 85142

Tel: 480-988-0095 Tues. - Fri. 11 am to 8 pm PS Time
click image for larger view

First Season - Golden Vines Design
[Brass Edition]

On September 18, 1965, at 8:00 p.m. on NBC, the adventure began. It all started when an astronaut named Captain Anthony Nelson, had to make an emergency landing on a deserted island in his space capsule somewhere in the Pacific Ocean. On the island Ca pt. Nelson found a mysterious bottle. He pulled off the top and suddenly, a beautiful genie smoked out of the bottle. She instantly fell in love with her rescuer. While Tony was gathering his belongings during his rescue she went back into THIS Golden Vines Bottle, and rolled it right into Tony's backpack and right into our hearts! I am very proud to bring you The Golden Vines Bottle!

Intricately RAISED in 18K Gold Leaf The Golden Vines gracefully embellishes the surface of this elegant Brass I Dream Of Jeannie Bottle, making it one of the most uniquely designed bottles available. A TRUE Art Piece, this bottle promises to enchant the "wishful thinker" in any true I Dream Of Jeannie collector. "Unassuming Elegance", that's the best way to describe the appeal of this pristinely designed I Dream Of Jeannie Bottle.

$329.99
click image for larger view

Silver Vines
[Brass Edition]

In real life the bottle was black and gold, yet because the show was in Black & White, THIS is how we saw and remember it!

Intricately in SILVER Leaf, the SILVER Vines gracefully embellish the surface of this elegant Brass Bottle, making it one of the most uniquely designed bottles available on the market. A TRUE art piece, this bottle promises to enchant the "wishful thinker" in any true I Genie collector!

This bottle is created for you in brass so it will never break!

Get Yours NOW, ONLY $329.99
click image for larger view

Golden Vines
[Glass Edition]

On September 18, 1965, at 8:00 p.m. on NBC, the adventure began. It all started when an astronaut , had to make an emergency landing on a deserted island in his space capsule somewhere in the Pacific Ocean. On the island he found a mysterious bottle. He pulled off the top and suddenly, a beautiful genie smoked out of the bottle. She instantly fell in love with her rescuer. While gathering his belongings during his rescue she went back into THIS Golden Vines Bottle, and rolled it right into his backpack and right into our hearts! I am very proud to bring you The Golden Vines Bottle! A TRUE & Magical Art Piece!

Get Yours NOW, ONLY $299.00
click image for larger view

The I Dream Of Jeannie Bottle - Metallic Purple [Brass Edition]

On September 12th, 1966, I Dream of Jeannie is NOW IN COLOR, and so is her bottle!! The incomparable magnetism of this 2nd-thru 5th Season Metallic Purple I Dream of Jeannie Brass Bottle is a must! YES, Dreams DO come true, as you will discover upon adding this classic and breathtaking Jeannie Bottle to your collection. This Jeannie Bottle possesses a breathtaking beauty that is unmistakable. Entirely hand painted in BRASS, this Jeannie Bottle has several coats of color to protect it from chipping and scratching, and an especially high gloss finish for the ultimate shine. With its apparent ability to "change color" (with alternate lighting), this Jeannie Bottle will make your childhood dreams into a reality! Make no mistake - this Jeannie Bottle will quench the magic thirst of every Jeannie collector!

$389.99
click image for larger view

Jeannie's 2nd - 5th Season Purple Mirrored Glass Bottle

No Longer a dream, this bottle is here and ready to come home to its master! It is by far, the most requested and most popular bottle of all the bottles ever introduced on the market! This magical bottle color will stand out like no other! The Luster is simply eye-popping, You will immediately feel the magic when holding this bottle in your hands! No one on the market can ever offer you such a bottle, and we promise you that this is the bottle you fantasized about as a child and wanted to own all your life!

$299.00
click image for larger view

Jeannie's 2nd - 5th Season Purple Transparent Glass Bottle

This is the traditional "Jeannie Bottle" used in the color episodes of the show in seasons 2nd thru 5th. This bottle is magically created in Glass, and it will fulfill your childhood dream to finally own this magical bottle! Do not Delay make all your wishes come true, with this stunning one of a kind art piece!

$279.00
click image for larger view

Jeannie's 2nd - 5th Season Mulberry Mirrored Glass Bottle

This bottle is magically created in Glass. Make no mistake, it is 100% the same size and shape as the original bottle that appeared on the show. The base coat has a Mirrored finish unlike any other bottle ever offered or seen on the market before! The shine literally dazzles & bedazzles anyone who sees it. I promise you, that you will be in shock by its blinding and hypnotic beauty!

$299.00
click image for larger view

Jeannie's 2nd - 5th Season Mulberry Transparent Glass Bottle

This bottle is magically created in Glass. Make no mistake, it is 100% the same size and shape as the original bottle that appeared on the show.

$279.00
click image for larger view

The Blue Djinn Transparent Glass Bottle

You will discover more power than you ever felt before with this breathtaking bottle! Available to the public for the first time! This Blue Djinn Bottle possesses a Stunning cobalt blue glass. The breathtaking beauty is unmistakable.

$279.00
click image for larger view

The Blue Djinn Mirrored Glass Bottle

This cobalt blue bottle is the most powerful Genie Bottle! It has a magical and dynamic look and feel to it. This bottle is created in Glass, just as it was when Tony found him on the beach! The breathtaking diamond-like shine has a glow of its own you will be very excited to own this magical piece as part of your collection!

$299.00
click image for larger view

The Evil Sister Green Transparent Glass Bottle

Dahhling This Evil Sister Bottle. is as wicked as they come. It possesses an evil unlike any other. The Mirrored shine of this bottle is simply a one of a kind. It radiates her true and cunning beauty. T his design has been copied many times by others, but no one has ever produced it properly. This design is an Original a Della Casa Design. This bottle is truly magical and powerful, and deserves the right to sister rivalry! This bottle is magically created in Glass, and it will look simply absolutely stunning in your home!

$279.00
click image for larger view

The Evil Sister Green Mirrored Glass Bottle

On September 19th, 1967 we were introduced to Jeannie's Evil Sister also named Jeannie. I am proud to introduce to you to an Original Della Casa Design, Time well spent went into the paint to create this unique Jeannie Bottle original. You'll love this stunning custom design, inspired by her original outfit, elegant, intricate and absolutely stunning! Jeannie Bottle Favorite, this creation is a Mirrored metallic green mixture with Yellows & Gold that compliments one another beautifully. Protected with several coats of high-gloss paint, this bottle is destined to become a collector's item.

$299.00
click image for larger view

The Green Evil Sister Reunion Glass Bottle

100% the same size as the Jim Beam bottle used on the show. With an accurate, intricate & wicked design, this Evil Sister Glass Reunion Bottle has an unrivaled beauty. The Dark Metallinc Green Mirrored base is one of the most beautiful pieces ever offered to the public as all my bottles are. This bottle's surface presents an attractive mixture of dark and light metallic paint,. Many coats of high gloss is used to fully protect its beauty.

$299.00
click image for larger view

Frosted Glass Bottle

Finally after all these years, Jeannie's FROSTED Bottle! Not only is this bottle absolutely stunning, but it can be used as a decanter as well! That's right, you can now use it to store your favorite liquids! This bottle takes almost twice the labor as a regular bottle, but you know you won't pay twice the cost with JeannieBottles!

$299.99
** CUSTOM DESIGNS BELOW **
click image for larger view

The Evil Sister Reunion Bottle
[Brass Edition]

With an accurate and intricate design, this Evil Sister Brass Reunion Bottle is an unrivaled beauty. As with the Glass Evil Sister Reunion Bottle, this bottle's surface presents an attractive mix of dark and light metallic turquoise, and is protected with several coats of high gloss paint.

$349.99
click image for larger view

Reunion GenieBottle - Metallic Purple
[Brass Edition]

Created entirely by hand, this unique Genie Bottle has numerous coats of color (for protection against chipping and scratching), and a high gloss finish that creates the ultimate sheen. With the "power" to change color (in alternate lighting), this Genie Bottle gives off a magical glow unavailable anywhere else.$349.99
click image for larger view

The Blue Djinn's Magic Bottle Metallic Blue
[Brass Edition]

Can you handle all this Power? Now you can own The Master of all the genie's bottle! The Blue Djinn Bottle! This Custom Della Casa Original design is created in Brass and a very SPECIAL Edition to the JeannieBottle family! The base offers a STUNNING Metallic Blue, which, appears to change hues in certain light. This Bottle will be an amazing addition to your Della Casa Collection. This Magical bottle has several coats of color and glaze to protect it from chipping and scratching and many coats of high gloss to bring you the very best shine. And, of course, it is not available anywhere else!$369.99
click image for larger view

Uncle Sully's Glass Bottle

Our beautiful Genie is called upon by her Uncle Sully to become queen of their family's native country, Basenji. When our genie bitterly leaves her master, he realizes how deeply he loves her, and that that outweighs all concerns he has about her threat to his career.He flies to Basenji to win her back, and upon their return home, he introduces her for the first time as his fiancée.

Important Note: Although modified, this design is a true and direct inspiration of a design Artist Russ Lake created. I only hope I have modified the designs to his liking and present it with the elegance it absolutely deserves.

$369.99